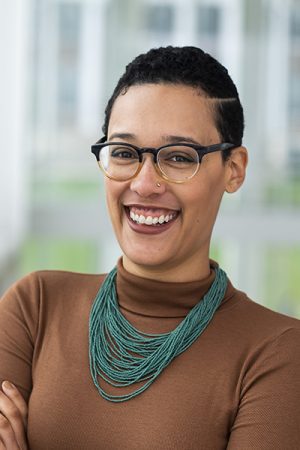 Dr. Fushcia-Ann Hoover
• Assistant Professor
Dr. Fushcia-Ann Hoover is an interdisciplinary researcher specializing in social-ecological urban systems. She employs a range of approaches and perspectives that include environmental justice, green infrastructure performance and urban planning, evaluating the impacts of green infrastructure planning when framed by race, justice and place-making.
She is the founder of EcoGreenQueen LLC, a company dedicated to teaching and expanding the knowledge and use of environmental justice frameworks and methods across research and practice, and runs the EcoGreenQueen Blog where she distills important connections between people, place and the environment. She has written work in online publications as well as scientific journals, and her most recently peer-reviewed piece "Examining privilege and power in US urban parks and open space during the double crises of antiblack racism and COVID-19" was selected as the Editor's choice by Socio-Ecological Practice and Research (SEPR), a Springer publication.
Prior to joining the faculty at UNCC in 2021, Dr. Hoover worked as a postdoctoral researcher at the National Socio-Environmental Synthesis Center (SESYNC), the Environmental Protection Agency (Cincinnati), and was a postdoctoral affiliate with the Julie Ann Wrigley Global Institute of Sustainability's Central Arizona-Phoenix Long-term Ecological Research site at Arizona State University.
Education
PhD Interdisciplinary Ecological Sciences and Engineering, Agricultural and Biological Engineering, Purdue University, IN, USA
MSE Interdisciplinary Ecological Sciences and Engineering, Agricultural and Biological Engineering, Purdue University, IN, USA
BSME Mechanical Engineering, University of St. Thomas, MN, USA