Student Organizations
There are three student organizations in the Department of Geography and Earth Sciences. GEO (Geology & Earth Science Organization), GTU (Gamma Theta Upsilon, which is an international honor society in geography) and STORM (Student Organization of Meteorology). To jump to the student organizations by name click on the links below.
GEO (Geology & Earth Science Organization)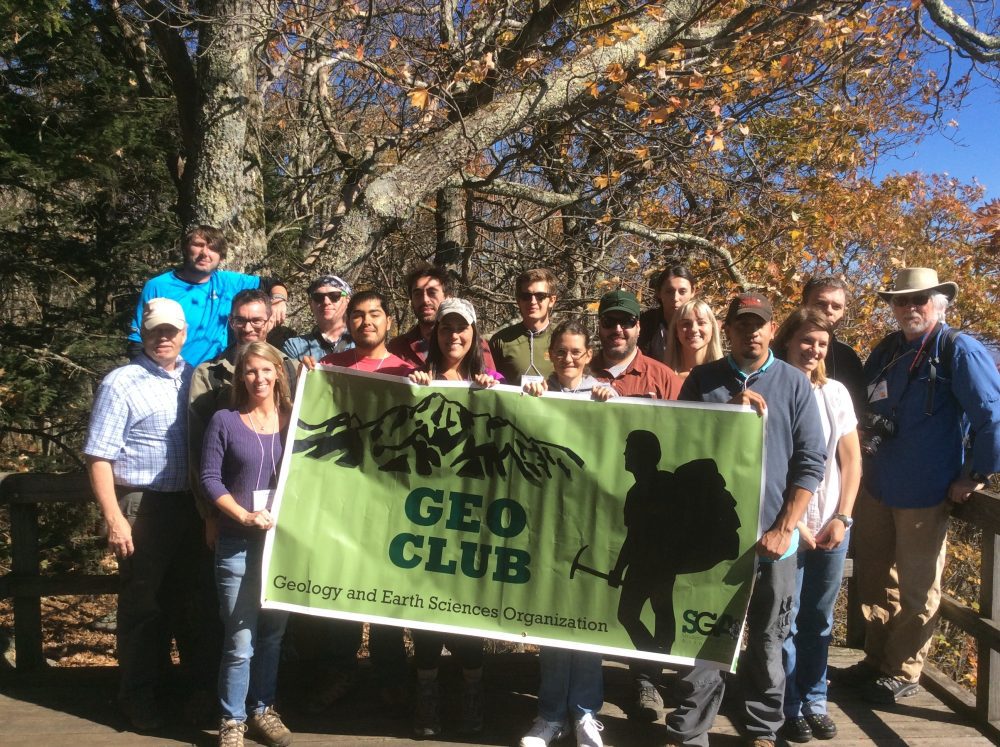 Mission Statement: The goal of the GEO Club is to provide networking opportunities for students interested in Earth Science careers or graduate degrees, community service opportunities related to the environment and geoscience education, and peer engagement opportunities to enhance the undergraduate experience.
GEO provides a support system among students in the Geography and Earth Science Department as well as other students interested in geosciences. This is achieved by providing informational sessions to non-majors, educating majors about research and funding opportunities, fundraising events, speaker series, field trips to points of educational interest, and sponsoring travel for majors to conferences to present research.
In the past, GEO has taken field trips with the SouthEastern Friends of the Pleistocene and the Carolina Geological Society, held AEG ( Association of Environmental and Engineering Geologists) meetings across NC, hosted Visiting Professional talks, participated in community outreach programs, and held cookouts each semester.
For more information about GEO, click here or contact one of the club's faculty advisors (Valerie Reynolds vreynol2@charlotte.edu, or Jake Armour jarmour@charlotte.edu).
GTU (Gamma Theta Upsilon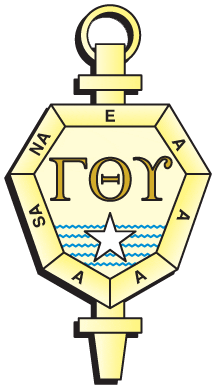 Gamma Theta Upsilon is an international honor society founded in 1928. Membership is earned through superior scholarship and now includes 5,000 geographers in the U.S. and Canada.
Inductees must have a "B" average that places them in the upper one-third of their class. It is an academic honor, and a professional distinction.
GTU chapters have as their charge, developing activities that promote knowledge and awareness of Geography. Our Zeta Omega Chapter has is a sponsor of GIS Day for a broad public and private sector community in Charlotte. With the UNC Charlotte Geography Club, GTU also has developed Geography Awareness activities for elementary schools in Charlotte and Kannapolis. Zeta Omega's success signifies the vitality of our discipline, but most especially, in bright students who are drawn to exciting careers in Geography.
For more information contact one of the faculty advisors, Jamie Strickland or Elizabeth Delmelle.
SGE (Sigma Gamma Epsilon)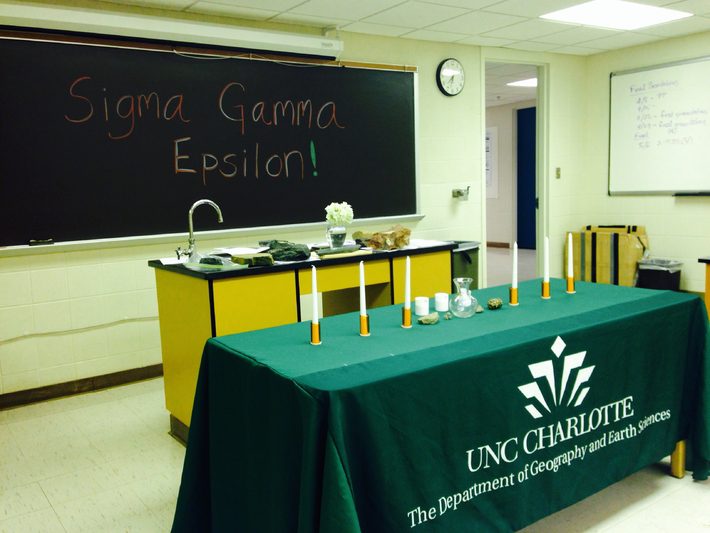 The Sigma Gamma Epsilon Society was established to recognize scholarship and professionalism in the Earth Sciences. It has for its objectives the scholastic, scientific, and professional advancement of its members and the extension of relations of friendship and assistance among colleges and universities which are devoted to the advancement of the Earth Sciences.
The mission of the Epsilon Sigma (ES) Chapter at UNC Charlotte is to encourage academic excellence and active participation in the discipline of Earth Science.
Click here to go to the SGE website.
STORM (Student Organization of Meteorology)
The Student Organization of Meteorology (STORM) is designed to broaden and educate the UNC Charlotte community on meteorological forecasts, events, and processes. STORM will provide an open environment that will strengthen students' camaraderie, successes within the classroom, and increase opportunities for professional careers.
For more information contact one of the faculty advisors, Terry Shirley or Matt Eastin.