Masters in Geography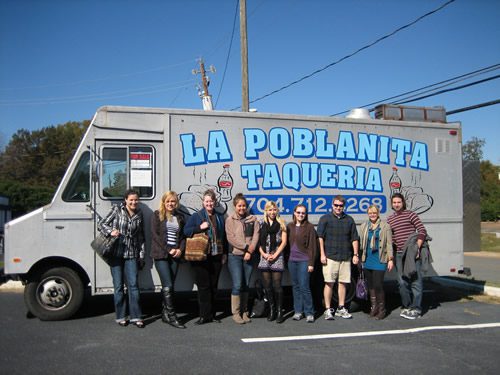 The MA program will make the GRE optional for Fall 2023 admissions.
The M.A. in Geography at UNC Charlotte emphasizes the application of geographic skills, methods, and theory to problem solving in contemporary society. To this end, students are offered a solid foundation in research methods, problem formulation and solution, quantitative methods, computer applications and Geographic Information Systems (GIS). Faculty and students are active in the community and students are encouraged to complete their programs with either funded or unfunded internships in the private or public sector.
One of the program's greatest strengths is the close relationship between its students and faculty and amongst the students themselves. Small class sizes, close student and faculty contact and a strong sense of community are considered essential components of the learning and teaching environment at UNC Charlotte.
The applied geography program at UNC Charlotte is recognized as one of the best of its kind in the country. Many of its graduates have gone directly into jobs as professional geographers, research and/or marketing specialists, location analysts, planners, transportation specialists, geographic information analysts, and private consultants. About 10 percent of the more than 200 graduates of the program have gone on to study in Ph.D. programs.
Admission Term(s): Application Deadlines
Fall: February 15th (Priority, for applicants wishing to be considered for available funding), April 1st (Secondary)
Spring: October 1st
Applications will be reviewed beyond these dates on a space available basis.
To receive full consideration for fall semester funding, applications must be referred to the Department by February 15. Applicants should submit their materials to the Graduate School at least two weeks prior to our deadline to be sure their application can be processed by the Graduate School in time. Applications to the M.A. program will be considered after February 15 though departmental funding opportunities will be more limited.
Click Here to Apply
Questions? Please contact program director Dr. Colleen Hammelman chammelm@uncc.edu