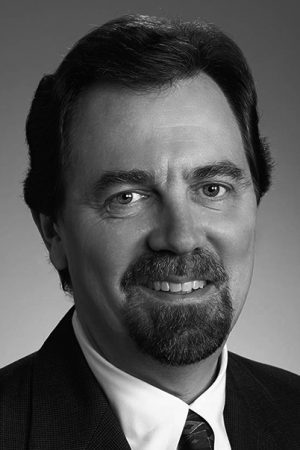 Dr. Harrison (Harry) Campbell
• Professor
Harrison Sherwood Campbell, Jr., who lived a thoughtful, love-filled life, now rests at peace, passing away at age 60 on Saturday, October 8, 2022.
Harry, as he was known by his family, friends, and colleagues, was born on February 25, 1962, in Encino, California. He spent his formative years in Briarcliff Manor, New York, and graduated from Wellesley High School in 1980, where he lettered in baseball all four years and played clarinet in the concert band and orchestra. Left to cherish his memory are his loving wife, Terry Albanese, his stepsons, Jacob and Benjamin Gefell, his brothers, Alan (Marcia) Campbell and Drew (Karen) Campbell, sister-in-law, Connie Lappa, and nieces and nephews, Katharine and Elizabeth Campbell, Colin and Megan Campbell, and Peter and Joseph Campbell. Harry was predeceased by his first wife, Jama Mooney, his father, Harrison Sherwood Campbell, Sr., his mother, Joyce Campbell, and his brother Bruce (Connie) Campbell.
Harry received a B.A. in Economics and Geography (1985) from Clark University and an M.A. in Geography (1987) and Ph.D. in Geography (1994) from the University of Illinois. As an economic geographer at UNC Charlotte for nearly 25 years, Harry was focused on understanding the nature of place, and, more importantly, communicating what he learned to his community, students, and colleagues. In addition to his often pathbreaking scholarship, his partnership with the Charlotte Chamber of Commerce to project local economic growth helped to shape modern Charlotte. In this partnership, Harry was author of Charlotte's Business Growth Index for many years. As an administrator, he played a significant role in developing new degree programs in Geography, Public Policy, and Environmental Sciences. Harry's most significant professional accomplishment was, by far, the contributions he made to students and colleagues. Always generous with his time, and unfailingly supportive, Harry impacted the lives of thousands via his teaching, mentoring, and friendship.
Above all, family and friendship were most important to Harry. He adored his wife and embraced his stepsons with open arms and incomparable generosity, always looking forward to holidays and extended visits with the only kids he had. He went to lunch with neighbors and stayed connected with friends across the country and globe. He loved to banter about baseball with his brothers, always kept up with his nieces and nephews, and wrote notes to his mother that she described as "the sweetest ever." Harry was a man of meaningful relationships.
Also an adventurer, Harry enjoyed traveling the world. He explored Indonesia, swam the oceans of Nicaragua, walked the streets of Buenos Aires, hiked the mountains of Argentina, and explored the high desert plains of Colorado. He visited many national parks, here and abroad, sharing a love of nature and the outdoors with his wife and best friend, Terry. He sought to learn about these places and was an active observer and researcher, never forfeiting a chance to gain insight or perspective about how our planet and its people work.
At home he enjoyed quiet mornings sipping coffee on the porch, watching birds at the feeder, and laughing at the Sunday comics. As much bad news as there was around, Harry always made space for jokes; there was always room to squeeze in a zinger.
Baseball was a special pastime for Harry. Whether watching from home or going to minor league or professional games – counting strikes and hoping for homeruns never got old. One of his favorite pastimes was going to Charlotte Knights games with his good friend and colleague, Bill Graves.
Husband, brother, son, stepfather, friend, professor, traveler, thinker, enjoyer-of-life, Harry brought smiles to our world, and he will be missed dearly by many.