Masters in Geography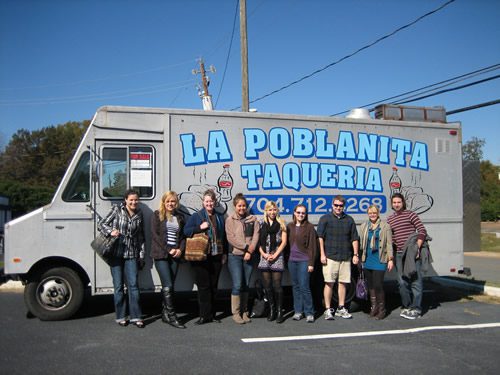 Welcome to the MA in Geography website! Here you will find information about our program, how to apply, and where to obtain more information.
Students earning an MA in Geography (UNC Charlotte catalog description) at UNC Charlotte gain expertise in geographic research methods, problem formulation and solutions, urban planning, Geographic Information Systems (GIS), human-environment relationships, and urban and regional development. 
Our program emphasis on the application of geographic skills, methods, and theory to problem solving in contemporary society provides students with a strong foundation for future careers as professional geographers, research and/or marketing specialists, location analysts, planners, transportation specialists, geographic information analysts, and private consultants. Interested students have also achieved success in going on to PhD studies.
One of the program's greatest strengths is the close relationship between its students and faculty and amongst the students themselves. Small class sizes, close student and faculty contact, and a strong sense of community are considered essential components of the learning and teaching environment. Our location in the fast-growing city of Charlotte (the largest city in North Carolina) also provides a valuable living laboratory for hands-on learning and professional development.
GES also offers an early entry program (Catalog description) through which eligible seniors can take graduate level courses counting toward their MA, and complete their MA with one year of additional study. Up to 9 credits can be double counted toward both the undergraduate and graduate degree.
Deadlines:
February 15 – Fall semester priority deadline
October 1 – Spring semester priority deadline
To receive full consideration for fall semester funding, applications must be referred to the Department by February 15 or October 1. Applicants should submit their materials to the Graduate School at least two weeks prior to our deadline to be sure their application can be processed by the Graduate School in time. Applications to the MA program will be considered after the priority deadline though departmental funding opportunities will be more limited.
The most up to date application and degree requirements are available in the Catalog
Please note that the GRE remains optional for Spring 2023 applicants and beyond.
All applicants are strongly encouraged to peruse our faculty website and reach out directly to prospective academic advisors whose research and professional interests align with their own. Admittance to our programs is contingent on an advisor being identified and agreeing to work with you.
Funding
Many of our students are funded through faculty research, teaching assistantships, scholarships, or fellowships. Students are encouraged to discuss these options with the faculty with whom you hope to work.
For additional information about funding graduate studies at UNC Charlotte, visit the Graduate Student Resources page.
Questions? Please contact program director Dr. Colleen Hammelman: colleen.hammelman@charlotte.edu