Gentrification, Displacement, and Alternative Futures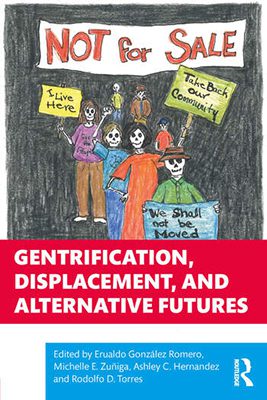 Dr. Michelle Zuñiga will be going to California at the end of the month for a book launch event at the University of California, Irvine! Congradulations Michelle!!!
Gentrification is one of the most debilitating—and least understood—issues in American cities today. Scholars and community activists adjoin in Gentrification, Displacement, and Alternative Futures to engage directly and critically with the issue of gentrification and to address its impacts on marginalized, materially exploited, and displaced communities. 
Authors in this collection begin to unpack and explore the forces that underlie these significant changes in an area's social character and spatial landscape. Central in their analyses is an emphasis on racial formations and class relations, as they each look to find the essence of the urban condition through processes of demographic change, economic restructuring, and gentrification. Their original findings locate gentrification within a carefully integrated theoretical and political framework and challenge readers to look critically at the present and future of gentrification studies.
Gentrification, Displacement, and Alternative Futures is a vital read for scholars and researchers, as well as planners and organizers hoping to understand the contemporary changes happening in our urban areas.
https://www.routledge.com/Gentrification-Displacement-and-Alternative-Futures/Romero-Zuniga-Hernandez-Torres/p/book/9780367357870