Terry Shirley Named Finalist for UNC Charlotte Award for Teaching Excellence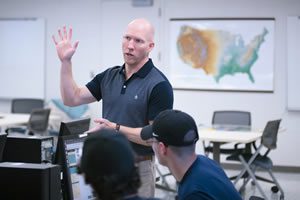 Terry Shirley Jr., Senior Lecturer is one of this year's finalists for the UNC Charlotte Award for Teaching Excellence. Recipients for each award will be announced Friday, Sept. 30, at the UNC Charlotte Marriott Hotel & Conference Center.
Shirley exudes passion. He is passionate about teaching and mentoring, the field of meteorology, advocating for students and supporting his colleagues. It seems every one of the 400-plus students he teaches each semester has been positively impacted by his classes and the care he extends toward each individual.
Shirley's three-pillared teaching philosophy includes connecting with students from diverse backgrounds and experiences, experiential learning and teaching beyond the classroom. He fulfills this philosophy by valuing and encouraging differences in students, conducting hands-on, real-world classroom applications and preparing and connecting students with professionals to help position them for career excellence.
"Teaching at UNC Charlotte is truly a privilege — allowing me to mentor students, share my passion about weather and the environment and work with my colleagues to support students in their journeys," said Shirley.